Archived: Send email from LGL with Mandrill
NOTE: This article is no longer current. Please refer to http://help.littlegreenlight.com/article/256-setting-up-your-lgl-account-to-send-email for the most current information.
---
In this article:
---
Sending transactional emails from LGL is available in all accounts. To activate this feature, you'll need to set up an account with Mandrill (Mandrill is a service provided by MailChimp that allows you to send regular emails with all the same reliability and deliverability provided by the MailChimp Email Marketing platform. Note: a Mandrill account is required to send email to constituents directly from LGL.) You can set up a free Mandrill account by going to http://mandrill.com. Once your setup is complete, you will be able to create and send individual emails, send emails to a whole list of people, and use email templates in acknowledgments.
Please be aware that sending emails this way from LGL has the look and feel of sending email from your own mailbox, and you should use the same precautions. It's generally not a good idea to send unsolicited marketing emails from your personal email address, and we'd suggest you not try doing that with this service either. This can get you in trouble with your email provider (Mandrill, in this case), and could have your email address flagged as spam (which may hinder deliverability of future emails).
LGL's email service is not meant to be a replacement for an email marketing service (MailChimp, Constant Contact, or the like), but it is a great way to streamline some kinds of email communications, like acknowledgments, pledge reminders, membership renewal reminders, and other types of small batch bulk emails.
Now, on how to get started...
Get your API key from Mandrill
Once you have created your Mandrill account and signed in, you will need to generate an API key that you can plug in to LGL. You can do this by going to the SMTP & API Credentials page in your Mandrill account: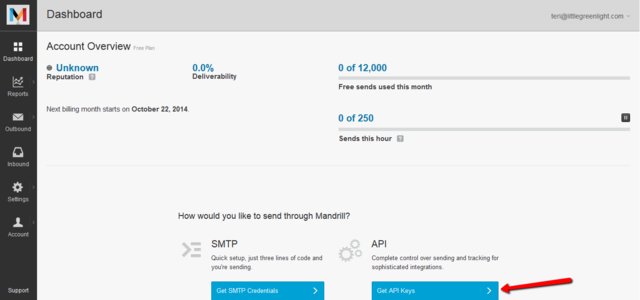 From this page, if you don't already have an API key, you can click the "+ New API Key" button:

Once the key is generated, copy the entire key (make sure no spaces or additional characters are copied, just the characters of the API key) to your clipboard so that you can take it over to LGL and add it.
Add your Mandrill API key to LGL
Within LGL, navigate to your Settings > Integration Settings > Mandrill Integration page.
From there, you can paste in your API key into the Set Mandrill API Key field shown below:

And that's it! Your integration has been set up. Read on below for more details on how to send emails from LGL.
Sending email from LGL
In general, emails from LGL work the same way as regular printed mailings in LGL. You have all the same merge fields available and can create all kinds of templates, including ones for acknowledgments, reminders, and so on.
You can send email from LGL in a few different ways:
To one constituent
To a handful of selected constituents
To an entire list/query of constituents
As an acknowledgment for donations
No matter which method you use, there are also a few basic things to keep in mind when using this feature:
Emails can be from any verified and approved LGL team member (i.e., a user in your LGL account that has logged in at least one time who is either an administrator or has been approved to send email by an administrator).
Because emails are sent via a server that is different from your regular email server, they may display as "From: Your Name via Mandrill" or "From: Mandrill on behalf of Your Name". Mandrill has instructions about why this is and how you can possibly change it (which you can, if you have your own domain and use it for emailing).
Emails must have a subject and some email content.
It is not advisable to send solicitations or newsletters using this approach. First, style and layout options are limited in the LGL email editor; and second, that is not the intended use of this feature.
It is not possible to send email attachments at this time.
Sending an email to one constituent
To email one constituent, you can go to their Constituent Details page and click the Email button:

This will open up a new email form in which you can define who the email is from, the subject of the email, and the content of the email: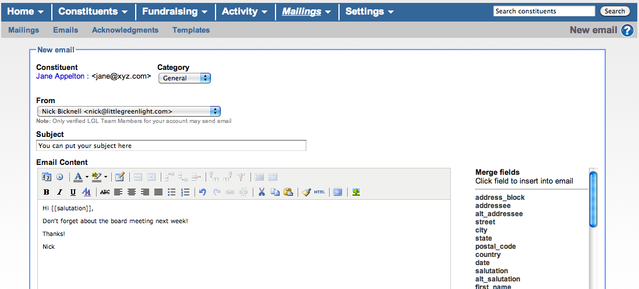 Then, when you're ready to send the email, click the Send Email button at the bottom of the form:

Send email to several constituents at once
If you have a handful of constituents you want to send the same email to and it's not easy to query for them, you can easily do that from the Mailings > Emails page.
To get started, go to that page and click the Add email button:

This will open up a basic form, letting you name and categorize the email.

Once that is done, you can save it and move on to defining the recipients and email content.
Looking up individual constituents
You can search for constituents by name and/or address and add them to the mailing, like this: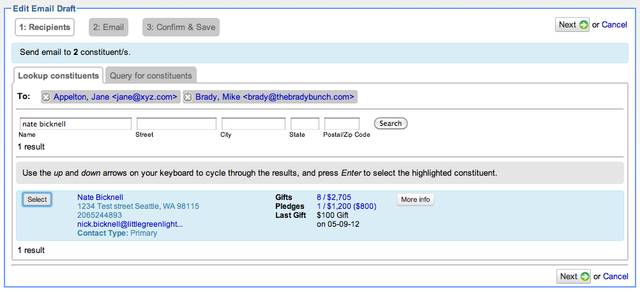 You can add as many constituents as appropriate using this method, but it is worth noting that each will receive an email that is addressed to him/her individually (there will only be one constituent on the "to" line).
When you have selected the constituents that you want to email, click Next or the Email tablet.
Write your email
As with the individual email, you can select the sender, define the subject, and write the content of the email here.
You can send a test email to check the content, if you like.


The test email will be sent to the specified email address, but use the merge information from the first recipient.
Save and send the email
Unlike with individual emails, when you first save your email, it will be in a draft state. To send the email, you can click on the Send Email button, either from the Mailings details page or from the email drafts list:

When you click this button, you'll be asked to confirm that you want to send the email, and then it will be queued for delivery. (**Note**: By default, we queue emails to be sent 30 minutes after you click Send. This gives you the opportunity to cancel the email send action before it happens).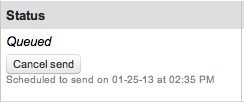 The status of the email will automatically update every 10 seconds.
Send email based on a constituent query
In some cases, you will want to be able to send out an email to a whole list of constituents based on a query. Some examples of this might include:
Sending pledge reminder emails
Sending membership renewal notices
Sending an email to all board members about an upcoming meeting
Sending an email to volunteers about upcoming opportunities
Build your query
Just like with reporting or a regular mailing, you can start this with a query in the Constituents tab:

From there, you can click the Send Email button to get started.
Write your email
After you name, categorize, and save your email, you can review the query and then move on to writing the email:
Assuming this looks good, click Next or click the Email tablet to type the email: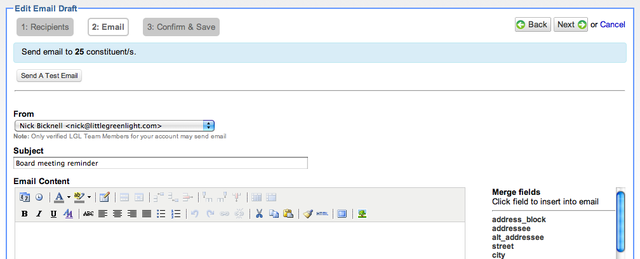 As with the previous example, you can select a template if available, choose the sender, and customize the subject and the email content.
You can also send a test email to make sure the merged content will look the way you want.
Save and send the email
Once you are happy with the recipients and the email content, you can save the email and then it will go into your Email Drafts queue. To send the email, click the Send Email button as described above.
Email acknowledgments
To learn how to send email acknowledgments, read Email acknowledgments.