Integrating with Mandrill to send transactional emails from LGL
Mandrill is a transactional email service. This article shares how to integrate your Mandrill account with your Little Green Light account so that you can send transactional emails using Mandrill.
Note: Little Green Light also offers a transactional emailing service free of charge that doesn't require integrating your account with any third-party provider. Read instructions for how to set it up.
Mandrill requires the following of all account holders:
A paid MailChimp account, starting at $10/month
Purchasing emails in blocks, with a minimum of $20/month
Setting up your account with domain verification [details]
If you choose to use Mandrill to send transactional emails, you can set up your Mandrill account and then follow the integration guide below.
Get your API key from Mandrill
Once you have created your Mandrill account and signed in, you will need to generate an API key that you can plug into LGL. You can do this by going to the SMTP & API Credentials page in your Mandrill account: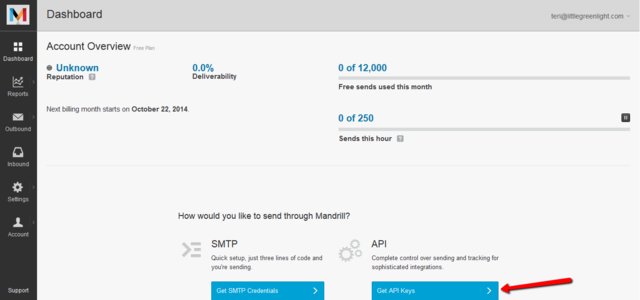 From this page, if you don't already have an API key, you can click the "+ New API Key" button:

Once the key is generated, copy the entire key (make sure no spaces or additional characters are copied, just the characters of the API key) to your clipboard so that you can take it over to LGL and add it.
Add your Mandrill API key to LGL
Within LGL, navigate to your Settings > Integration Settings > Mandrill page.
From there, you can click the Set up Mandrill button:
Then paste your API key into the Set Mandrill API Key field shown below and click the Connect to Mandrill button:
That's it! Your integration has been set up. You can now begin emailing from within LGL.