Microsoft Word letters
In this article:
---
Note: Word 2007 or later is required to use Microsoft Word letters in LGL.
Microsoft Word gives you complete control over the look and feel of your letters because it allows you to do things like add letterhead, embed photos, insert digital signatures, and use your preferred font. For this reason, we recommend using a Word document as your letter template.
See also: http://lgl.helpscoutdocs.com/article/134-simple-lgl-letters
Key considerations
Before you can upload your Word files and have them produce good letters in LGL, there are a few things to consider:
You need to create your files in the Microsoft word .docx format, which is available in Microsoft Word 2007 or later. If you have Microsoft Word 2003, you can install the compatibility pack offered by Microsoft to start generating .docx files: http://www.microsoft.com/en-us/download/details.aspx?id=3
LGL merge tags need to be used in order for the letters be merged properly with data in your LGL account. You can download a copy of the merge field reference from the Mailings page, or from your Help page. For general review, you can inspect this version: http://lgldocs.littlegreenlight.com/mailings/merge_reference. In your own LGL account, any custom fields will be included as well.
LGL Mailings does not use Word's mail merge functionality. Instead, you will insert the LGL merge field (s) you desire directly into the Word document where you want the data they will pull in to appear.
It is not possible to edit Word documents within LGL. Any editing of the files themselves requires downloading them onto your computer, editing them there, saving the changes to your computer, and re-uploading the updated file/s.
Create your file in Word
Here's an example of what your file might look like in Microsoft Word: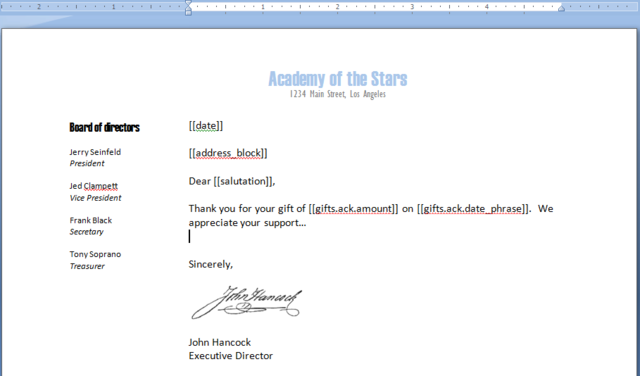 In this case, we've defined the complete letter with merge tags in Word, which is an acceptable way to accomplish the goal.
Use [[letter_content]] and [[ps_content]] to streamline the process
However, we might be better served to write less of our content in the Word file itself, and instead make use of two special merge fields:
[[letter_content]]: Where you can write the body of your acknowledgment letter, or any type of personalized introduction to a different type of communication
[[ps_content]]: Great for adding custom notes to a single letter within a larger mailing
Here's an example of what that file would look like, along with some notes about the use of each field: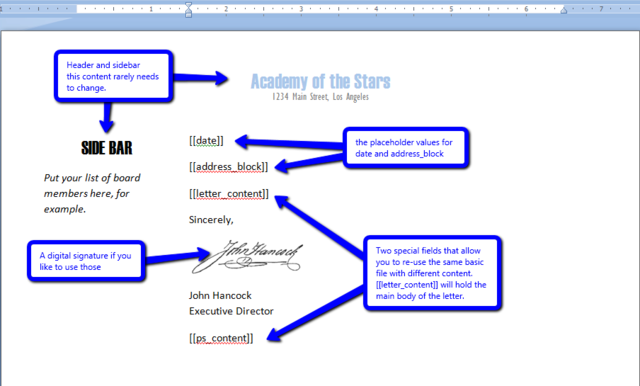 And here is how you would set up the Letter Content field to work with that:
What's great about this approach is that you can use the exact same Microsoft Word file in many different letters and letter templates within LGL. This has the benefit of saving you time on file creation (you only have to create the one file) and also when it comes to making small updates to the content of your letters.
If you have a file set up to use [[letter_content]], you can make any changes that you need directly within LGL.
Upload your file
After you've created your file, you will need to browse for it and select it to upload it into the mailing or template:
You also have the option of using the "basic_word_template.docx" file, which can be downloaded to your computer, updated in whatever way you choose, and saved back in as your Word document template when you browse to it on your computer and select it.