Documents
In this article:
---
LGL includes a basic document management system, which is accessible from the Activity tab.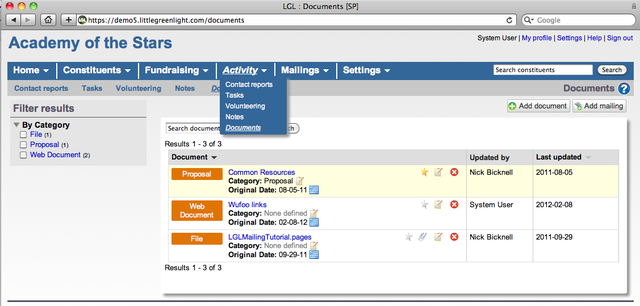 You can upload files in connection with a constituent's record, or a task, or almost anything like that. You can also create web documents that can be edited and updated online using a WYSIWYG (what you see is what you get) HTML editor.
Adding documents
To add a new document from the documents tab, click on the Add document button: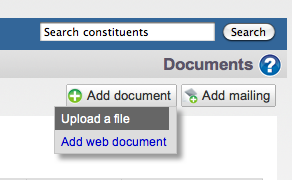 Document categories
If you would like to store different types of documents, you can add categories to classify each document. You'll then be able to filter by those categories. This is a great way to see all the proposals you have submitted, for example. You can add new categories in Settings > Menu Items > Other items.
Searching for constituents with documents attached to their record
You can search for documents attached to specific constituent records, by date or by document category, from the Advanced Search area of the Constituents page, as shown here:
"Sticky" documents
Documents are listed in descending order based on their last updated date. However, you can make a document always appear at the top of your documents list by clicking on the star icon next to any document:

Document versioning
File attachments and web documents both support versioning. With file attachments, you can upload a new version at any time. With web documents, a new version is created each time you update the document.
File upload limits
You can upload any kind of file that is less than 10MB in size.
Searching for constituents by the documents that are attached to their record
You can search for constituents by the documents attached to their record, by date or by document category, from the Advanced Search area of the Constituents page, as shown here: