Constituent categories
Constituent segmentation or coding is critical to donor management, and constituent categories in LGL let you do this exactly how you want to. Constituent categories are the best way to keep your constituents organized and to facilitate the creation of targeted lists, reports, and mailings.

From the Constituent Details page, you can add or update all categories by clicking on the Edit all categories button.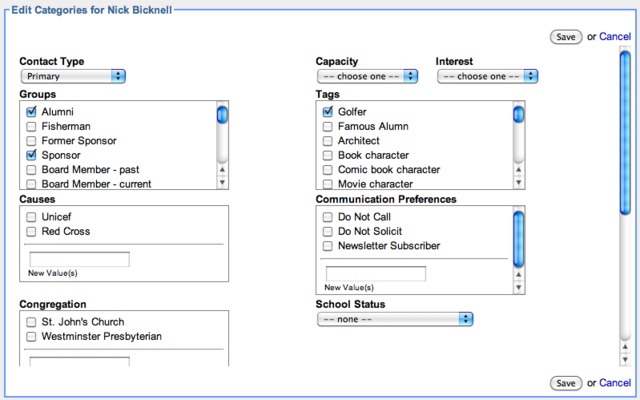 You can manage your constituent categories and their menu items from the Settings / Menu items page.
Custom constituent categories can be used to track information about a constituent that's important to your organization. They allow you to classify your constituents in more ways and to customize the ways offered by default in your Little Green Light that you want to classify them. Customizing constituent categories can make it easier to find different or multiple types of constituents using queries or filters.
It's common, for example, to use groups to identify board members, volunteers, or prospects, and each of these can be considered a primary relationship or constituent classification. You may want to record information about a constituent in additional ways that aren't so primary, however. Common examples include "volunteer interest," "volunteer skills," and "source," which you could use to identify volunteers by their area of interest, their skills, or how they connected with you (through an event, referral, or other method). That information could then be used to communicate with volunteers who have specific interests or skills when related opportunities arise, for instance.
Note: At this time, it's only possible to create constituent categories. This functionality is not currently available for any other data type.
Create your own custom constituent categories
To create your own custom categories, go to the Settings tab in your account and choose Menu Items. Explore the categories currently available, add one of your own, and click the Add category button at the top of the page.
Two types of custom categories are available, which you choose when creating a new one:
Multi select, which allows you to assign more than one value to the category for a particular constituent
Single select, which means a constituent can only ever have a single value for that category at any given moment
Watch a brief video on adding a new constituent category: