LGL Refer a Friend Program
In this article:
---
How to sign up
All LGL customers associated with a paying account are invited to join the LGL Refer a Friend Program. To sign up, click on My Profile in the upper right corner of any page of your account and follow the steps in the Referrals section.
If you do not see the Refer a friend tab in your profile, that might be because your account is not yet registered as a paying account. If you have already paid a fee for your account, you will see this link: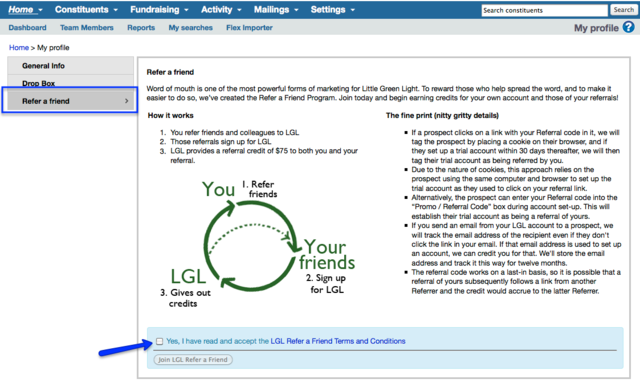 Making referrals
Once you are in the program, in the Referrals area of "My Profile", you will have two ways to make referrals: email and weblinks.
Email
The screenshot below shows an example of the default email that is ready for you to send to your referrals. You can enter up to 10 email addresses at a time. You can also feel free to edit the email. However, you will want to make sure that you leave the link to Little Green Light intact. Embedded in this link is your referral code, which is what will link your referral's account to your account.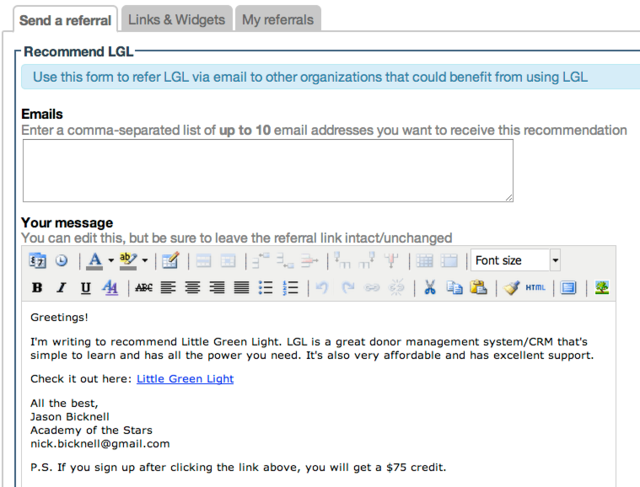 Weblinks
Another way to promote LGL to your referrals is to post weblinks on your site. We have provided four images for you to choose from. Copy and paste the HTML code and place it on your website where you would like the image to appear. The image will be linked to Little Green Light, and it has your referral code embedded in it.
Checking the status of referrals
You can check the status of any referrals you've made by looking in the "My referrals" tab. You will be able to see if your referrals have created a trial account and then whether they have subscribed as an LGL customer.
Getting credit
Your referrals will receive a credit of $75 in their accounts right away (upon creating their trial account from your referral). Your account will be credited $75 as soon as your referral has paid that much in subscription fees.