Constant Contact integration
In this article:
---
About the integration
The Little Green Light integration with Constant Contact allows you to manage email contact lists from within LGL. After a simple setup/configuration within LGL, you can begin syncing information from your LGL account to Constant Contact. Name and email address only can be synced to Constant Contact from LGL.
Using this integration, you'll be able to create and maintain Constant Contact lists from within LGL, and add and remove constituents in those lists from within LGL. Synchronization of data will occur only in lists that are created and managed from within LGL. LGL will not add or remove constituents to any lists that you have created directly in Constant Contact.
Most of the integration works only in one direction (from LGL to Constant Contact). However, invalid email and unsubscribed statuses detected by Constant Contact will be pushed from Constant Contact to constituent records in Little Green Light.
IMPORTANT NOTES:
In order to view/use this feature in LGL, you must have Administrator-level access in Little Green Light.
The Constant Contact service is completely separate and carries its own pricing structure, terms of service, and privacy policy. Please see http://www.constantcontact.com/ for details.
Connect LGL to Constant Contact
The first step is to create a Constant Contact account, if you don't already have one. Once that is complete, you can:
Go to the Settings tab in your LGL account and click on the Integration Settings link
Click on the Constant Contact Integration menu
Click on the Authorize Constant Contact button, sign in to your Constant Contact account, and grant access to LGL (see screenshots below)
Authorize Constant Contact
Sign in to Constant Contact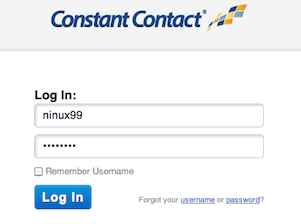 Allow access to your LGL account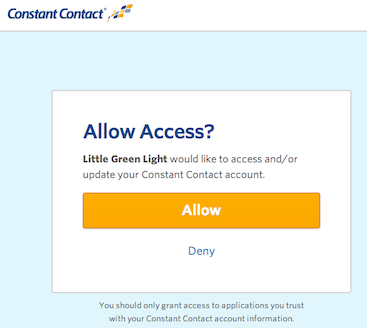 Add constituents to Constant Contact Lists
When your LGL account and your Constant Contact account are connected through the process laid out in the previous section, you can begin to add constituents to your Constant Contact Lists, as described in this help article.
What information gets pushed over to Constant Contact?
For each record LGL is pushing over to Constant Contact, we send First name, Last name, and Email address. The Email address we send is the "preferred" email address (or the top one listed in the constituent record). We only send one email address over per record. If you change which email address is "preferred" in a record that is already being pushed to Constant Contact, then we will edit the record in Constant Contact so the new preferred email address overwrites the previous one.
Restrictions
LGL will prevent you from subscribing any constituent who can't or doesn't want to receive email. As such, you will not be able to subscribe a constituent who has the LGL Communications Tag "Do not email" tag set, nor can you subscribe a constituent who has unsubscribed via Constant Contact. LGL will also prevent you from subscribing a constituent whose email is not valid or has bounced.
NOTE: If you have constituents on Constant Contact list(s) in LGL and you later mark them as "Do not email", LGL does not change their status in Constant Contact. You would need to also remove them from your Constant Contact list(s).