Create contact reports by sending email to your LGL dropbox
In this article:
---
A constituent record with a rich contact history is a wonderful thing, but logging in to copy/paste your important email communications each time you send a message can be a barrier to making that happen. How great would be if you could just forward or blind copy (bcc) these emails to LGL and let it do the work? Thankfully, you can do just that.
This feature is also a great way to add new constituents to your LGL account just by sending an email!
Turn on the dropbox feature in your LGL account
To turn the feature on, go to your Settings page and in the Email Dropbox section, you can enable the dropbox for each role independently: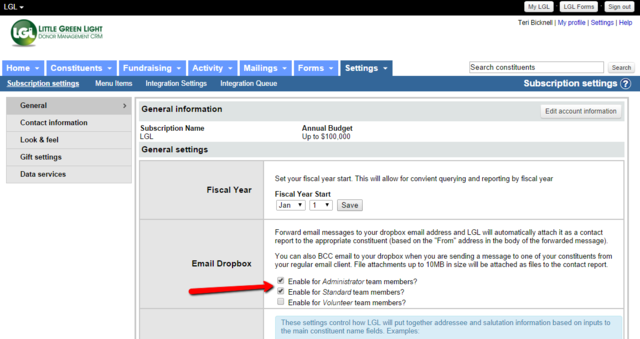 Find your dropbox address
After you have turned on the dropbox for administrators, for example, each administrator will be able to find their individual dropbox address on their profile page: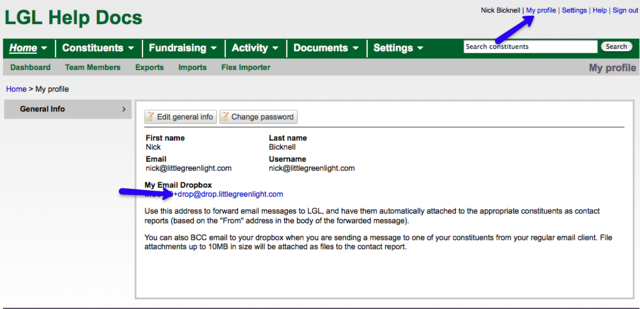 Add your dropbox address to your email contacts
Add this email to your contacts in your email client, and then you can include it as a BCC address in any emails that you send directly to constituents, or you can forward messages from constituents.
Additionally, if you click on an email address in your LGL account to pull up your email client, we will automatically attempt to include the dropbox address in the BCC field: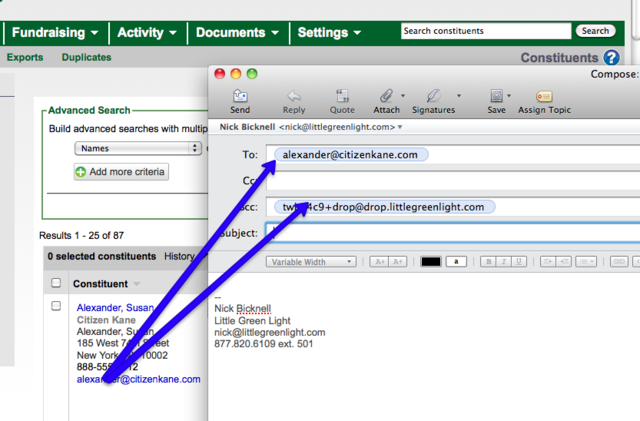 Create a contact report by bcc'ing your dropbox address
When you send a message to a constituent, a copy is automatically added to their record in LGL, as a contact report, like the "Email" activity shown here: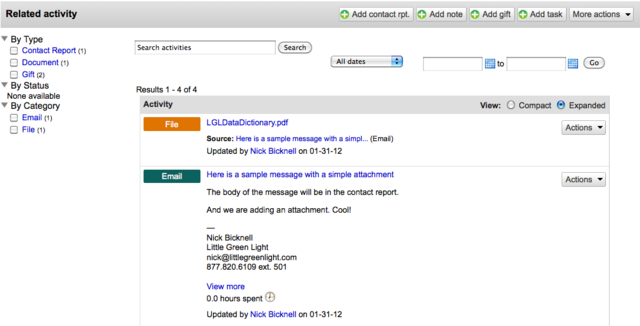 How the process works
The dropbox process receives emails every few seconds and parses the body of the message and any file attachments.
If the BCC address is used, then constituents are matched based on emails in the "To" field. If the email goes to multiple people, a contact report will be added for each of them.
If the BCC address is in the "To" field, then constituents are matched based on the first "From" address in the body of the message.
If the email was already sent, you can forward it to create your contact report by placing your dropbox address into the "To" field, forwarding the email, and then in the body of the email, typing the following:

From: <type the constituent email address here>

Note: The constituent email address is the email address you have on record for the constituent.
Name and email information may be parsed from the constituent's email. For instance, an email address string like "Nick Bicknell" nick@littlegreenlight.com, which is a common way that named emails come through, will be able to parse out the email and name.
Matching is done based on name and or email alone, if no name information can be parsed. If no matching record is found, a new constituent will be created. This may not appeal to everyone, but it is easy to merge records when duplicates are created, and the contact reports will carry over to the primary records in these cases.
The body of the email goes into the body of a new contact report with an "Email" type, and any file attachments are loaded as well. All image files are currently ignored due to the prevalence of images in the email signatures.