Getting started - Prospective customers
In this article:
---
There are a few great ways to get to know more about LGL:
Search and browse this knowledge base
There's a wealth of information in the Knowledge Base about using LGL.
Watch our introductory video
Attend a live demo/tour of Little Green Light
LGL Introductory Tour webinars are held each week on a rotating schedule. Register for an upcoming session or watch a recorded tour on our website : http://www.littlegreenlight.com/webinar-tour/
Terminology
Here are a few key definitions and conventions that are used throughout LGL:
Subscription: Your subscription is your organization's unique, private instance of LGL. It is a web application that we host on our servers, and only you and your users have access to it.
Team members and users: You can add an unlimited number of team members or users to your subscription. Each will have an account as defined below.
Account: Each user has an account that defines the access that he or she has to your LGL subscription. Each user account has a role assigned to it that controls access and permissions (see roles and permissions section).
Home/Dashboard: Your home page or dashboard is where you land when you first log in, and it shows your activity calendar, fundraising summary information, and a quick constituent search.
Constituents: Constituents are people and organizations that you have (or want to have) a relationship with. You can search for and browse through your constituents on the Constituents tab.
Fundraising: Fundraising in LGL covers campaigns, funds, appeals, events, all gift types, pledges, installments, and goals, and all of it is housed within the Fundraising tab.
Activity: Activity in LGL covers the whole spectrum of your interactions with your constituents, from gift, pledge, installment, and goal information to tasks, contact reports, notes, documents, and comments. The Activity tab provides a global view of all activity for all constituents, while each constituent details page shows constituent-specific activity.
Documents: Documents can be uploaded into LGL as attachments, or created and edited online as web documents. Documents also including bulk mailings and mailing templates.
Conventions
Tabs

Tabs are used for global navigation, and they tell you where you are. You can quickly navigate between the major areas within LGL by clicking the desired tab.
Getting Help

If you have any questions about what you can do on a page, you can read some relevant help information by clicking on the big question mark. Or you can come here (you're in the right place!).
Actions/Buttons


Every page has some standard actions you can perform. Generally speaking, buttons perform page-level actions (like editing or deleting the constituent or task you are looking at) while icons on their own, or next to hyperlinks, apply to specific items within the page.
The plus sign indicates you can add something new
The notepad with a pencil indicates you can perform an edit
The red X icon signifies you can delete or remove a particular item
Filters
Every list in LGL has one or more filters that can help you get to the information you need more quickly.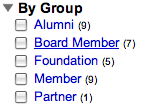 Click on a filter to apply it, and uncheck it or click on it again to remove it.