Tracking school-specific data in LGL
In this article:
---
LGL tracks class-year affiliations of your schools' students, parents, and grandparents and makes it easy to generate class lists and manage alumni.
Turn on school settings in your LGL account
Turn on school settings in your LGL account.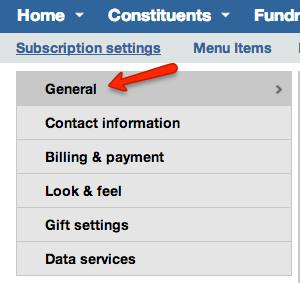 Select the box to turn on school settings.

Class years and class affiliation types
To assign a class year to a constituent record, you must also assign a class affiliation "type". Your LGL account comes preloaded with the following default Class Affiliation types: "Student", "Parent", and "Grandparent". The most common Class Affiliation type is "Student", which represents those who attend/attended your school. Class affiliation types such as "Parent" or "Grandparent" can be used to associate those constituents with their child or grandchild's class year.
It is possible to assign more than one class-year affiliation for a constituent (i.e., a parent who has multiple children at the school or an alumni who also is a parent, etc.).
Additional class-year affiliation types can be added by going to Settings > Menu Items > Class Year Affiliations. Some possible additional class-year affiliation types might include "Withdrawn Student", "Withdrawn Parent", "Prospective Student", and so on.

The year you use in your class-year designation should represent the graduation year (or anticipated graduation year). This is a nice way to avoid needing to update your affiliations every year as the student moves through the grades in your school. It also lets you avoid the need to transition a constituent from "Current Student" to "Alumni". The class year assigned to them will help you determine whether they are a current student or an alumnus.

Assign class-year affiliations to constituents
From the Constituent Details page, you can assign constituents to a class affiliation type and year by clicking on the Add Affiliations or Edit Affiliations button:

Now you can choose the appropriate class-year affiliation type from the drop-down menu and add the four-digit class year. The year is a required field and must be completed in order to be able to save the entry.

Class-year data at a glance
In the Related Information section of the constituent record, you will see the class-year affiliation types and years that the constituent has assigned to them. This is also viewable in the abbreviated constituent record in the All constituents view: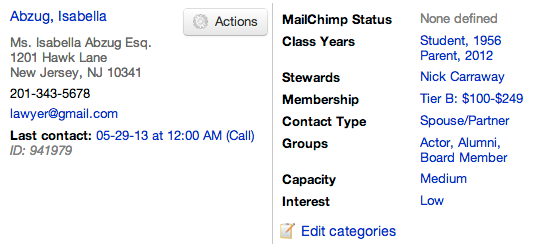 Build reports, create lists, and send mailings
You can query for constituents based on their class affiliation and/or year. And then you can either create and save a list, export your results if you want a spreadsheet, or begin a mailing to the result set.
In the example below, our query selects the students who were members of the classes of 1956 to 1972. We click Search, and LGL displays the 6 constituents meeting our criteria. From here we can save this as a list by choosing the Save selected button, send a mailing to this group by clicking on the Send mail button, or export the results to a report by clicking the Export results button.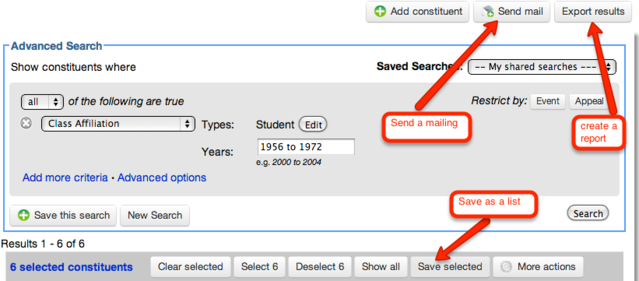 Class-year affiliation type merge fields available for use in mailing or email templates
It is possible to include student graduation years as merge fields in a mailing or email. Here are those merge fields (they are also available in the Merge Field Reference in your account):
[[class_year.Student.short]] for the student's 2-digit class-year affiliation
[[class_year.Student.full]] for the student's 4-digit class-year affiliation